Beautiful, elegant, and discrete, these mindfulness rings are the perfect portable support for all of us carrying a bit of anxiety.
Ideal for fidgety fingers or pent-up energy the rotatable daisy flower/butterfly feature aid in preventing nail biting and skin picking.
Practice mindfulness to help calm stressful situations while focussing on the movement and rotation of the ring in combination with slow and intentional breathing.

The open ring design means that this beautiful ring is adjustable and made to fit most finger sizes
Made from 100% Nickel Free Premium Copper

Please note: All our LEVITAYT™ Anxiety Relief Rings are carefully crafted individually, therefore the edges of each daisy ring may have a slight size difference. Each ring is a unique creation <3 x

we recommend ordering today to ensure we don't sell out!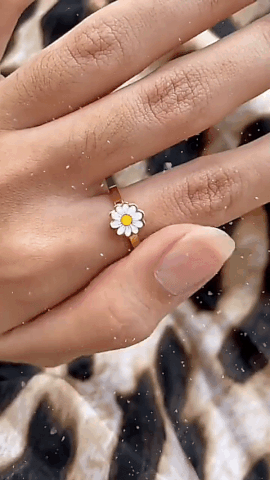 >not sold in stores<

due to high demand - this ring will be dispatched within 1 - 4 days of
placing your order